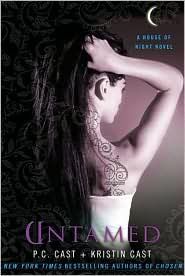 #4 House of Night
Copyright: 2009
Publisher: St. Martin's Press
Genre: Young Adult
Pages: audio
Challenges: Strong Heroine, Urban Fantasy, Young Adult, Audio Book
Author's
Website
My rating: 3/5
Simple Description:
In the fourth installment of the House of Night series, we have Zoey being all by herself. No boyfriend..heck..no friends. Due to her actions, right or wrong, she has become alienated. The only person still speaking to her is Aphrodite. When Aphrodite has a vision where she see's two different ways that Zoey dies, she knows it's time to tell friends some of the secrets she's kept from them. She needs her friends by her side.
Something evil is in the night. Some weird Raven's. When Aphrodite has another vision and writes down what she thinks is a poem, they learn that it's really a Cherokee legend and Zoey calls on her Grandma for help. Soon they learn that it's not legend, it's true. Neferate is up to something evil and more than just vampyres are in danger.
My Thoughts:
While I thought this was a good installment to the series, I didn't find myself enjoying it as much as I have the other three. I don't know if it's because I've listened to all of them and with this one the narrator is different and threw me off, or if it was something else. I found the bickering between Aphrodite and Zoey's other friends getting on my nerves. I get it, they are different, but Aphrodite is changing and I just think the bickering needs to stop.
The story itself is good, even though it doesn't end with everything wrapped up and tied nicely with a ribbon. I know it's just leading us in to book 5 though. I do think this is a good YA urban fantasy series and even though I didn't like this one as much as the others, I still liked it and plan to continue with the series.
Audio Review:
As mentioned, I did listen to this book. The narrator for book four is Jenna Lamia. I think she does a good job, I just wish they hadn't changed narrators in the middle of the series. Sometimes I felt her tone was too sarcastic or too, well, something. But at the same time, it is a YA book and it is how teenagers talk. Whether it was my age showing or not, I don't know. I did see that Jenna is the narrator for book 5 and I'll continue with audio for this series.
I thought the narrator's name was familiar so I did a search on my blog and found that she's also the narrator of Saving CeeCee Honeycutt. I remember loving that audio version.