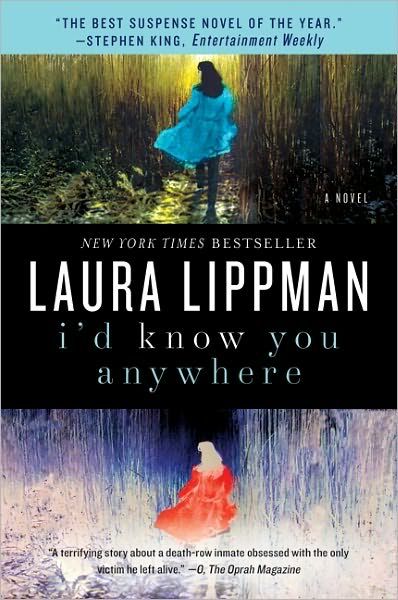 As many of you probably know, Laura Lippman's latest book I'd Know You Anywhere was released in trade paperback earlier this month. As a way to promote the author and her new book I'm happy to have the opportunity to host a giveaway for 3 of the author's books.
I haven't had the chance to personally read any of Laura Lippman's books yet but I've been wanting to for awhile. In fact, I know I'll be reading Baltimore Blue's later this year.
For those of you who haven't read anything by her yet, here's some info for you:
I'D KNOW YOU ANYWHERE is a finalist for the Los Angeles Times Book Award (mystery category) and for the 2011 Edgar Award in the Best Novel category. The book was also nominated for a Romantic Times Reviewer's Choice Award. I'D KNOW YOU ANYWHERE was included on numerous "Best of 2010" lists, including Stephen King's list in Entertainment Weekly. Lippman has previously won Edgar, Shamus, Anthony, Gumshoe and Quill Awards for her work. The Washington Post calls her "One of the best novelists around, period."
Here's some info about I'd Know you Anywhere:
More about I'D KNOW YOU ANYWHERE (Morrow; Trade Paperback; On-sale May 3, 2011):
There was your photo, in a magazine. Of course, you are older now. Still, I'd know you anywhere.
Suburban wife and mother Eliza Benedict's peaceful world falls off its axis when a letter arrives from Walter Bowman. In the summer of 1985, when Eliza was fifteen, she was kidnapped by this man and held hostage for almost six weeks. Now he's on death row in Virginia for the rape and murder of his final victim, and Eliza wants nothing to do with him. Walter, however, is unpredictable when ignored—as Eliza knows only too well—and to shelter her children from the nightmare of her past, she'll see him one last time.
But Walter is after something more than forgiveness: He wants Eliza to save his life . . . and he wants her to remember the truth about that long-ago summer and release the terrible secret she's keeping buried inside.
"Laura Lippman is among the select group of novelists who have invigorated the crime fiction arena with smart, innovative, and exciting work." —George Pelecanos
"This is a story that grips you not with suspense but with its acute psychological autopsy of a survivor. Lippman's knack for elucidating the horrors humans can inflict on one another through violence and manipulation — while telling a compelling story —is disarming and fascinating." —USA Today
"Lippman's taut, mesmerizing, and exceptionally smart drama of predator and prey is at once unusually sensitive and utterly compelling. —Booklist
"Lippman's dedicated fans will find themselves well rewarded with I'D KNOW YOU ANYWHERE, an exceptional novel in every way, which is sure to gain her many new followers." —San Diego Union-Tribune
You can read more about the author at her site with Harper Collins or on her own website.
Now..I did mention a giveaway didn't I? I'm able to offer 1 copy of each of the following books:
Baltimore Blues
Hardly Knew Her
I'd Know You Anywhere
To enter, just fill out the form. Anybody with a US or Canadian address can enter. You can choose all three books or you can choose just one or two. I'll do a separate drawing for each book. The giveaway will end at midnight (central time) on May 27th . Good luck!