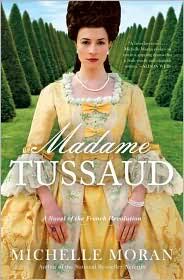 Copyright: 2011
Publisher: Crown
Genre: Fiction
Pages: 440
Challenges: 2011 Pub Challenge
Author's
Website
My rating: 3/5
Simple Description:
Madame Tussaud is the story of the French Revolution as told from Marie Grosholtz. Marie is Madame Tussaud later in life. The French Revolution happened before she was married and her last name was changed to Tussaud. Marie lived with a man she called Uncle, along with her Mom. He owned a wax museum and since Marie grew up living there she learned the trade. She was a gifted artist and she did the sketches, plaster molds, etc. She also then painted and put the wax heads together.
At first they had exhibits showing the royal family. However as the revolution started and continued the displays were constantly changing in order to show the people who were popular at that time. Marie's goal was to show the people what they wanted in order to bring in more business.
The salons held at her Uncle's house once a week were often places for some of the heads of the revolution to get together and speak. Marie knew many of them and tried to balance this along with her new friendship to the King's sister.
At several times Marie had the chance to flee but she didn't want to leave her Mom and brother's. She gave up true love in order to stay. There also came a point when she wasn't willing to do what the revolutionists wanted and she paid for it.
My Thoughts:
I thought this was a very interesting approach to the French Revolution. I think we have all heard of Madame Tussuad regardless of if we have visited one of the museums or not. I never really knew much about the person behind the store. I also don't know much about the French Revolution. Combining the two made for an interesting read.
As with all historical fiction novels we have to remember that not everything is accurate. I did read the afterwards where Michelle gives a history of what happened to some of the key players and also she described some of the changes she made. I found this part just as interesting. Even though I know it's fiction based on real events, I feel like I did learn something and I walked away knowing a bit more about the French Revolution and Madame Tussuad herself.
I did enjoy this novel, I felt the story was interesting and it moved along pretty well. I've been a fan of Michelle Moran's since her first book and she doesn't disappoint. I have to admit that I think I liked her other novels better however that could be the subject line. Her other novels have been placed in ancient Egypt and that's a period that fascinates me. So those stories have my interest before one of the French Revolution any day of the week. All in all - I enjoyed this novel and definitely recommend it.