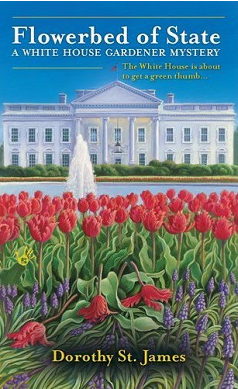 #1 White House Garden Mystery
Copyright: 2011
Publisher: Berkley Prime Crime
Genre: Mystery
Pages: 307
Challenges: Cozy Mystery Challenge
Author's
Website
My rating: 3/5
Simple Description:
Casey hasn't been at the White House long but she already loves her job. She's an assistant gardener and has plans to put the White House on an organic gardening plan. However, just hours before she is supposed to give her proposal to the first lady and the committee, she is attacked while weeding a flower bed. She doesn't remember much, other than seeing a man in a baseball cap and very distinct shoes.
When the secret service show up to help her, they soon find a dead body. Casey reads a lot of mystery novels and believes she could be a really good sleuth. When one of her co-workers is brought in for questioning she promises him she will find the murderer.
Casey knows she needs a sidekick and thinks one of the secret service men she has been in contact with could help her, only he doesn't give up any information. Soon more people are attacked and Casey knows the police and FBI are missing something important, but just exactly what that is she doesn't know. yet.
My Thoughts:
At first I wasn't sure about this one. I loved the idea of it, I'm a big organic person myself and am working on growing some veggies using organic soil and methods myself. So the organic gardening part of the mystery is what first drew me too it. However once I started I wasn't so sure how I would like it. I'm happy to report that I was soon caught up in the story and ended up really enjoying it. I cant' say exactly what kept me from liking it from the very beginning, first book in a series jitters perhaps? Whatever it was, I'm glad I stuck with it.
I ended up really liking Casey. Sure..she does some snooping on her own but not a whole lot. I liked that the story followed her on her normal duties and she got the snooping in when she saw the chance come up. I also like that her sidekick didn't blab all the details about the investigation. He didn't really give her any clues and that was a welcome change. I can't imagine investigators do talk to just anybody about the details yet in most cozies they seem to open up without any problems. So the fact that that wasn't the case with this book was nice.
This was a great start to a new cozy series, definitely one I'll be following.
Thanks to the publisher for providing this book for review.