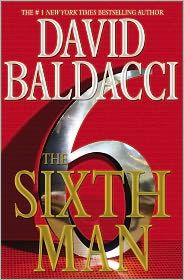 #5 King and Maxwell
Copyright: 2011
Publisher: Grand Central
Genre: Mystery
Pages: audio
Challenges: Strong heroine, Mystery and Suspense, audio book, Pub Challenge
Author's Website
My rating: 4/5
Simple Description:
Edgar Roy works for the government in the intelligence field. His life is turned upside down when he is found in his barn with 6 bodies. King and Maxwell are called in by his lawyer to help out with the case. Before they can talk to the lawyer though, the lawyer is found dead.
As you might be able to guess, King and Maxwell don't let the case dropped just because of that. Unfortunately by doing this they are putting their lives in danger. They meet with Roy but are unable to get any information from him. Then they have trouble figuring out who is even paying for his legal services. Then when they do, they get some info but not a lot. It seems everyone is holding something back. They don't believe Roy was the murderer, but if not him, then who. And why?
My Thoughts:
I thought this was a great follow-up to the last book in the series. I just adore King and Maxwell, they are both really strong characters. This book had a lot of twists and turns and just when you think you figured it out, you are thrown for a loop. I'm now caught up on the series and while I'm happy with that, I don't want to have to wait for another book to be published. I want another one..now. lol
Audio Review:
I did listen to the audio version of this book. Ron McLarty and Orlagh Cassidy are the narrators. I think they both do a great job. Even though I think they did good and I enjoyed the audio, I don't think I'll listen to more of this series on audio. I find that I miss things because I don't always pay 100% attention to the story since I listen while I'm driving. I think this is fine with most fiction books because you can follow along, but with this one I felt like I missed things sometimes. So the audio was good..I just don't think it's right for me.