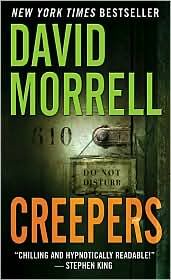 #1 Frank Balenger
Copyright: 2005
Publisher: CDS Books
Genre: Mystery
Pages: 365
Challenges: Off the Shelf, New Author, Mystery and Suspense
Author's
Website
My rating: 4/5
Simple Description:
Frank Balenger meets up with 4 other people one night in October as they plan to find a way into the boarded up Paragon Hotel and investigate. The others are creepers or urban explorers as they would like to be called. They access abandoned buildings and investigated, never damaging anything, not taking anything or leaving anything. The leave the place as undisturbed as possible. They just want a glance into the past. Frank is there to experience this for the first time.
The Paragon Hotel has been boarded up for years but was once a very luxurious hotel in Asbury Park, NJ. Known mobsters were known to stay there. The owner was recluse who occupied the top story and never left the hotel. The only way into the hotel is through a drainage system as the hotel was boarded up from the inside.
Things start off creepy when the tunnels are full of rodents...mutated rodents. There is even a 3 legged cat to give you the willies.
Soon the group is inside the hotel and one thing after another seems to go wrong. The group is about to get a lot more than they bargained for, and some might not even make it out alive.
My Thoughts
:
I wasn't too sure what this book was about before reading it (yeah..another one) but I had heard it was a bit creepy. I figured that would make it the perfect book for October, when I try to add in some spooky reads. I was not disappointed. There were several things that happened in this book to give it a creep factor. The problem is, I hesitate to say more because I don't want to ruin anything. After reading the book I did read the back of the cover and I like that it doesn't give anything away, therefore I won't either.
You'll have to trust me when I say this was an excellent book, one that kept my interest the entire time. Plus, there were a lot of story lines that I did not anticipate but they made the story. Overall, very satisfied with this one and I know I'll read the 2nd (and currently only other book) in the series. I really liked Frank Balenger, what a great character.