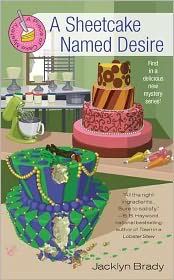 #1 Piece of Cake mystery series
Copyright: 2011
Publisher: Berkley Prime Crime
Genre: Mystery
Pages: 304
Challenges: New Author Challenge,
Author's
Website
My rating: 3.5/5
Simple Description
Rita Lucero heads to New Orleans to see her estranged husband in person. They've been separated for awhile and she keeps trying to get him to sign the divorce papers but he won't. She determined to stay in New Orleans until he's signed them. However she never gets a chance because the next time she see's him in person is when she finds his dead body.
The police question her as a suspect because as the estranged, but not currently ex-wife, she would be the next in line to receive ownership of his wealth, including a car, house, and a bakery. The bakery might be Rita's dream, as she is a pastry chef, but she wouldn't kill somebody for it. She didn't even know about the house and car.
Rita is set to return home but her Mother-in-Law asks her to stay. She never liked that her son left Rita and
since the bakery is part hers, she wants Rita to stay on for a couple of days and manage the bakery. Just until things can be worked out. She doesn't know who she can trust, seeing as how somebody is trying to sabatoge the bakery. She also feels the person who murdered her son works for the bakery, and wants Rita to help figure out who the killer is since the police can't always be trusted to do so.
My Thoughts:
I felt this was a pretty good story. It's a good start to a new series, one where you can expect the characters to continue to mature and grow on you. I like Miss Frankie, the mother. She seems like a wonderful woman.
I also like Rita, feel she's been through a lot but can really come out of her shell and grow as partial owner
of the bakery.
There is the dreaded hated character that always shows up in cozies, but I'm really hoping that was just this
book and we won't have to deal with her in the next installment. Luckily, while important to the story, it wasn't necessary for her to be in the story a lot.
I have to admit that while I love to bake, I'm not a huge fan of all the cake designs and shapes that seem to
be so popular these days. While that part did play a small role in the story, it wasn't enough to annoy me.
In fact, I probably could have used more story taking place in the bakery and around what the workers
were doing.
Overall, have to say this is a good start to a new cozy series. I think a lot of you will enjoy it and I look forward to the 2nd in the series.
Thanks to the publisher for providing a copy of this book for review.