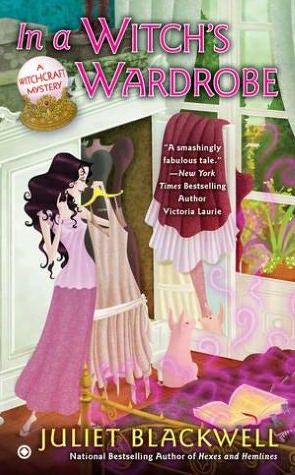 #4 Witchcraft Mystery
Copyright: 2012
Publisher: Obsidian
Genre: Mystery
Pages: 310
My rating: 4/5
Finally! A book that kept my interest and I was able to read it pretty fast. At least fast for me these days. haha! I picked this one on purpose because I knew I enjoyed the three previous books a lot. I needed a book that I could start knowing I would mostly likely enjoyed. It did just that.
Lily is attendig a ball when she happens to meet a woman by chance. Later she meets this woman again in the ladies room and finds the woman in a coma. Then the most bizarre thing happens, she see's the woman's spirit in the bathroom mirror.
Lily can't just sit back and do nothing. She has to investigate and see how she can help this poor woman. When a local inspector contacts her to see if she knows another witch who recently died, Lily finds that the two woman knew each other. Could there be a link?
Once again Lily is back to her investigating ways. She was asked by the local PD to help out, but only in asking the covan some questions and trying to find out more about the dead girl. Lily has a habit of taking that one step further.
This book was just as good as the other ones. I love Lily. She's such a great character. The characters and the stories will keep me coming back for more.